Clergy gift of oil for the school kitchen
A gift of oil

 
Clergy provide a gift of oil for the school kitchen at Mukinyai. The clergy executive members each contributed cash and brought twenty litres of cooking oil and presented it to the school. The school kitchen, built by Feeding Futures in 2018, prepares and cooks hot breakfasts and lunches each school day. Over 400 children enjoy these meals at Mukinyai Primary School.
Important background – The clergy are a group of church leaders from the various denominations. At the November 2019 visit, we held a seminar/workshop with around 25 church leaders from the local community. We told them about the programme and they agreed to partner with us. The purpose was to encourage the community to trust and work with the project. Previously the leaders had not sat down and had tea with each other. At the workshop they set up an executive committee and have regular meetings. They now encourage parents and the community to engage in the activities to provide food for the kitchen.
The presentation of a gift of oil
Representatives of the clergy group visited the school on 10th March 2021. Secretary, Simon Ndirangu; vice chair, Mugane Joseph and treasurer, Teresa Wangui presented the gift of oil for the school kitchen. Chair of the kitchen committee, Teacher Robert Omosa received the gift of oil for the school kitchen on behalf of Mukinyai Primary School.
Mugane Joseph was a previous student in the school class of 1982 and Teresa Wangui is a parent.  At the December progress review meeting, Feeding Futures recognised Teresa for her commitment and progress in the conservation farm training. Teresa shown here in her green Feeding Futures field coat.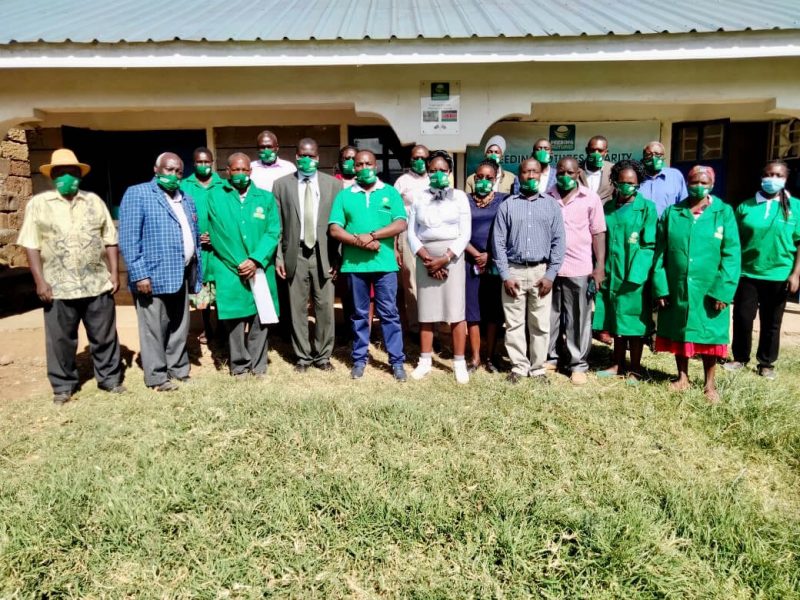 Pastoral care
In addition to the clerics giving oil, and as is usual for school assemblies, the students and teachers received some bible teaching and prayer together.  They also took a moment to encourage and pray for the current grade 8 students. From 22nd-24th March, they will be sitting for their national examinations. These should have been taken in October but were delayed because of covid-19 restrictions.
Student & teacher testimonies
Left to right below are Sylvia, Rosemary, Naomi, Daisy  and Bairon. They remember that before Feeding Futures, a few would carry food from home and it was cold by lunch time. Most pupils never carried food and they were left to beg for food from those who had food from home. Now they always have hot meals from school, they really appreciate it. They are pleased to have time to concentrate on their studies rather than having to beg for food.
Head teacher, Mary Njoroge commented:
"Needy pupils can now access at least two meals a day with one of the meals being at school since their parents cannot afford to provide breakfast or lunch at home which has been provided at school for the last 2 years". 

"Cases of absenteeism have gradually reduced. The health of the children has improved now they receive a guaranteed balanced diet. Also there is improved school discipline. Previously there were many cases of theft of money at home by the pupils. This was to buy food during the lunch hour. Now there is no need by the same pupils to steal  from their parents because they have food. The moral values have also improved such as responsible children who wash their plates and cups. Patience is seen when they queue during meals time. When a class of pupils have been caught up in a class activity and go late for their meals they find that the other pupils have not taken double portions and left them without a meal"
As parents begin to take full responsibility for school meals, the school kitchen receives a gift of oil that indicates the community working together.